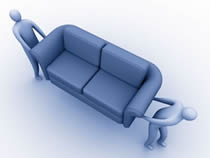 All prices include moving.
*limited time only.
Pricing includes free in room pick-up and delivery. We lead the industry with one and two hour pick-up and delivery time windows. Your items will be moved to a secure and climate-controlled private storage facility.
Packing materials will be delivered free of charge 1-2 weeks before your scheduled pick-up date. Special arrangements will be made for last minute sign-ups. Don't be afraid to order extra boxes or packing materials as you will be able to return what you don't use at the time of pick-up.
Your first monthly payment plus the cost of packing materials will be made at the time of the pick-up.
Packing Materials
You may use your own boxes although we recommend using our double walled moving boxes for durability and labeling reasons.
$6.75

Campus Storage Moving Boxes


(

17x17x22 inches

)

$4.95

Packing Tape


(

seals 3-4 boxes

)

$5.75

Bubble Wrap


(

10 feet long by 16 inches wide

)

$8.45

Mattress Bags (Full/Twin)


(

1 bag

)

$9.45

Mattress Bags (Queen)


(

1 bag

)

$10.45

Mattress Bags (King)


(

1 bag

)
It is highly recommended that mattresses are double wrapped to stay clean. Please use a slip cover as well as mattress bags to prevent dust build up on your mattress. One mattress bag going on each end.
Storage Costs
Storage costs are per item, per month. Miscellaneous items are items that do not fit into your boxes.
$15.95

Campus Storage Moving Box

$11.95

Small Misc. Items

$16.95

Medium Misc. Items

$23.95

Large Misc. Item

$35.95

Extra Large Misc. Items
Declared Value Coverage can be added for $2.00 per $100 of coverage.
(Up to $400 per item, or $1200 max per client)
Each school has a minimum monthly storage cost per month. To view your school's minimum storage cost, click
here
.
* Free move-outs are typically during and around finals week. Free move-ins are typically during and around dorm move in/first day of class schedule dates. Exact free dates will be given for each particular school during sign up. We only deliver on the dates specified on the website.